The Queen Portal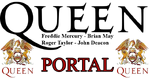 Queen are a British rock band formed in London in 1971, originally consisting of Freddie Mercury, (lead vocals, piano), Brian May (lead guitar, vocals), John Deacon (bass guitar), and Roger Taylor (drums, vocals). Queen's initial works were chiefly glam rock, heavy metal and progressive rock orientated ; however, with time, the band has incorporated diverse and innovative styles in their music, exploring the likes of vaudeville, electronic music and funk. The band digressed from using progressive themes in their music in the mid-1970s, with more conventional and radio-friendly works bringing them greater success.

Read More...
Featured Song

More...

Featured Member

Brian Harold May, CBE (born 19 July 1947) is an English musician and astrophysicist most widely known as the guitarist and a songwriter of the rock band Queen. As a guitarist he uses his home-built guitar, "Red Special", and has composed hits such as "Now I'm Here", "Tie Your Mother Down", "We Will Rock You", "Who Wants to Live Forever", "Hammer to Fall", "Save Me", "Fat Bottomed Girls", "I Want It All" and "Too Much Love Will Kill You". May earned a PhD in astrophysics in 2007 and is currently the Chancellor of Liverpool John Moores University.[1] May lives in Surrey(More...)
Featured Album

A Night at the Opera is the fourth studio album by British rock group Queen, released in November 1975. Co-produced by Roy Thomas Baker and Queen, A Night at the Opera was, at the time of its release, the most expensive album ever recorded.[1] A commercial success,A Night at the Opera has been voted by the public and cited by music publications as one of Queen's finest works. It has 12 songs and its genre is Rock. The album was first re-released in the US on Hollywood Records on 3 September 1991 with two bonus remixes, as part of a complete re-release of all Queen albums.(More...)

Yearly Poll

Where is Freddie? Heaven or Hell?

 
Categories

To display all subcategories click on the [+]

Featured User

Redligot2009's favorite band is Queen. He likes playing instruments, he's favorite is the guitar. He once tried playing Bohemian Rhapsody but he said it's hard. His favorite guitarist is Brian May. He made one Queen song called I Want To Break Free. He is an administrator in this wiki, he also made the secret admin website to discuss Songpedia but the website is now down due to CPU's move to Songpedia.
Featured Article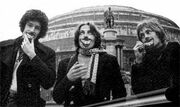 Smile were a London-based blues based rock band best known as the predecessor to renowned rock band Queen. The band was formed in 1968 by Brian May, who was to become Queen's guitarist. The group included Tim Staffell as singer and bassist, and, later, drummer Roger Taylor, who also went on to play for Queen. The group disbanded in (More...)
Featured Photo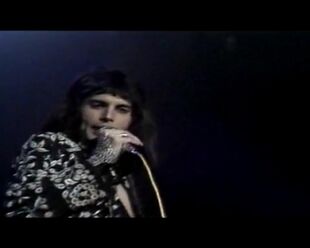 More Queen Media
Featured Performance
The Freddie Mercury Tribute Concert for AIDS Awareness was an open-air concert held on 20 April 1992 at London's Wembley Stadium. The concert was a tribute to the life of the late Queen frontman, Freddie Mercury, with all proceeds going to AIDS research. The show marked bassist John Deacon's final concert with Queen (save one live appearance with Brian May, Roger Taylor and Elton John in 1997).(More...)
Queen Topics
What Are Portals? • List of Portals
Purge server cache
Community content is available under
CC-BY-SA
unless otherwise noted.