Portals
Portals are similar to the mainpage except that their a main page of a certain artist, genre, instrument, etc... There are currently 2 portals in Songpedia, along with 3 other portal projects. You can host a portal project, just contact an admin that hosted at least one portal projects, and they'll tell you what to do. Remember, portals are long to create, they need lots of hard work and love.
Songpedia Forums

Songpedia Forums is a place to discuss everything with other users that reply on your posts. The forums have been divided into six topics (General Discussion, Help, Music, Content Discussion, Technology And Features, and Voting Booth). You can post forums, reply to posts, and discuss more things with other users. Adding a post is very easy, just click on one of the six topics, there will be a create box on each of them, then type the title, after that your done! Replying is just clicking the edit button.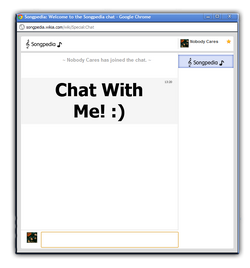 Songpedia Chat is the best place if you just got quick questions, just want to say hi, or chat with your online friends! Songpedia Chat is currently version 3.9!
Chat
Latest Chat Features:
Private Messages
Timestamps
Kick/Ban
John Winston Ono Lennon
was an Academy Award and Grammy Award-winning English songwriter, singer, instrumentalist, graphic artist, author and political activist who gained worldwide fame as one of the founders of The Beatles.
(More...)
Featured Image
Vote - Nominate
The movie poster of the 1964 film, A Hard Day's Night, The Beatles' first feature film directed by Richard "Dick" Lester.
Image Credit: Nobody Cares
Thanks for voting, and be sure to check back for new polls each week!
|}
Other Content Areas In Songpedia
Songpedia is a free editable website giving you information about music since June 19, 2010.