History of The Beatles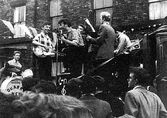 One of the first three known photographs of the Quarrymen performing – in Rosebery Street, Liverpool on 22 June 1957. From left to right: Hanton, Griffiths, Lennon, Garry, Shotton, and Davis
The Quarrymen
This box: v • e • d
The Quarrymen (sometimes erroneously written "Quarry Men") are a British skiffle and rock 'n' roll group, initially formed in Liverpool in 1956, who evolved over a four-year period into The Beatles, the most commercially successful and critically acclaimed rock band in world history. The surviving founder-members of the group reformed the band in 1997 and are still active as of 2010.
Originally consisting of John Lennon and several schoolfriends, the Quarrymen took their name from a line in the school song of Quarry Bank High School which Lennon and most of the other original group members attended.[5] Lennon's mother, Julia Lennon, taught her son to play the banjo and then showed Lennon and Eric Griffiths how to tune their guitars in a similar way to the banjo, and taught them simple chords and songs. Lennon started a skiffle group that was very briefly called the Blackjacks, but changed the name before any public performances. Some accounts credit Lennon with choosing the new name. Other accounts credit his close friend Pete Shotton with suggesting the name. The Quarrymen played at parties, school dances, cinemas and amateur skiffle contests before Paul McCartney joined the band in July 1957. George Harrison joined the band in early 1958 at McCartney's recommendation, though Lennon initially resisted because he felt Harrison (still only 14 when he was first introduced to Lennon) to be too young.
The group made an amateur recording of themselves in 1958, performing Buddy Holly's "That'll Be the Day" and "In Spite of All the Danger" - a song written by McCartney and Harrison. In early 1960, the group started exploring various alternative names. After Lennon recruited his art school pal Stuart Sutcliffe to the group, they tried the name the Silver Beetles and other variations, before finally settling on The Beatles in August 1960 when they first performed in Hamburg. In 1997 the five surviving original members of the group (all except the deceased Lennon) reunited to perform at the 40th anniversary celebrations of the garden fete performance at which Lennon and McCartney met for the first time. The band decided to continue playing and since 1998 have performed in many countries throughout the world. Griffiths died in 2005 and Shotton retired owing to ill-health. As of 2010, the three active founding-members are still performing as The Quarrymen.[1]
Surviving Members
Edit
Past Members (Died/Retired/Moved)
Edit
Community content is available under
CC-BY-SA
unless otherwise noted.