There's a new band called The Fresh Men! Please don't create articles about it. Anyways I'm a member of it! Oh yeah I'm famous. The Fresh Men is currently fighting stage fright, a sickness where you don't wanna go to stage, luckily, we practice everyday (Including Weekends).
The official Newsletter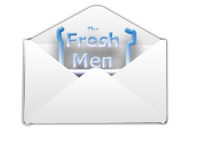 Sign Up For The Newsletter.....NOW!!!
You're Fresh Ideas
Do you know that if you suggest a song about something we might make it? All you need to do is to click here. And also we might not accept all of them, only things we like, like peace, and anyways we're counting on you, documentaries about us will mention winners I guess (if I don't die when there's a doc.). Please do not include songs that are just completely very violent, we would like songs that are anyways we just decide. Please take note too that the song is either lyricted or instrumental.
---
© EMI Records 2011
Community content is available under
CC-BY-SA
unless otherwise noted.